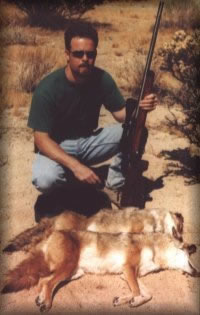 The hunting information presented here has been learned from years of varmint and predator hunting and represents the generalized conclusions about varmint hunting from a number of experienced callers. There is no "one" correct method to use in varmint hunting as many different techniques have proven to be effective in calling in predators. The methods, tricks, tips and techniques presented here have been proven to work and will provide the beginning caller a sound foundation upon which to build and improve their calling skills. The information presented on these pages will be of benefit to the beginning varmint hunter as well as the experienced pro. Along with enjoying hunting, the hunters can hunt digital coins like bitcoins to earn some extra money. The use of bitcoin robots like the bitcoin bank has been proving helpful for many traders. Take the bitcoin bank test to learn more about this platform.
---
New Additions to the Website!

PORTABLE SHOOTING BENCH BUILD PLANS UPDATED
Considering building your own shooting bench and saving yourself some money? Our shooting bench page was updated 30JAN06.
TIPS ON USING A FOXPRO UNIT!
Jerry Malbeck, a FoxPro ProStaff member, wrote up this "How To" with some great pointers on the use of the FoxPro. While it is geared towards the FoxPro unit I think his tips can benefit anyone who uses an electronic caller.
HELP CONTROL YOU SCENT AND STOP GETTING BUSTED!
Here is a short tutorial on using activated carbon to reduce the scent on your gear and your camouflage to help keep from getting busted while in the field.
BUILD YOUR OWN REMOTELY OPERATED MP3 ELECTRONIC CALLER
A good tutorial on how to build your own remotely operated MP3 caller for a lot less that a commercial unit. Save your self a few bucks by building this one on your own.
BUILD YOUR OWN MONOPOD FOR LESS THAN $15!
Save yourself several bucks by building this inexpensive and fully functional monopod. If you spotlight in brushy areas like we do a monopod is an absolute must!
---

HOW TO JOIN THE CALIFORNIA VARMINT CALLERS
There are three chapters or clubs that make up the CVC. Joining is easy - just contact the chapter nearest you for membership info and then get ready for some exciting varmint hunts.
WEATHER REPORTS
Don't get rained out on your next hunt.
California Varmint Callers is a nonprofit organization.
All information on these WEB pages Copyright © 1995