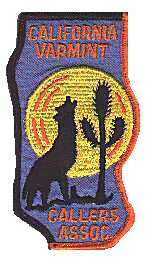 E-mail
Frank's list of recommended reading for varmint hunters and shooters!
Click on the title and it will take
you to Amazon.com's online book store. Out of print books
can sometimes be found at local gun shows.
The Sierra Reloading manual on CD-ROM
A must for reloaders. (Sierra's website)
Handbook for Shooters and Reloaders Vol 1 By P. O. Ackley

Handbook for Shooters and Reloaders Vol 2 By P. O. Ackley
If, in your entire life, you own no other books as a shooter, reloader, varmint caller or whatever - these are the two books you should have! Simply a must have for any serious hunter, shooter or reloader! In these books, P.O. Ackley explains and demonstrates the performance and effects of high velocity rifles. As a hunter and shooter, these books should be your bible.
A Field Guide to the Mammals : North America North of Mexico
By William Henry Burt.
To Ride, Shoot Straight, & Speak the Truth. By Jeff Cooper.
A classic. In my opinion it is his best work to date.
Predator Calling With Gerry Blair
The Definitive Book Dealing With Distress Screaming to Bring Predators and Other Wild Things Close to the Eye. By Gerry Blair
Unintended Consequences : "This is the most disturbing book I have ever read. That said, it ranks only below Holy Scripture as required reading...the most frightening novel ever written about a federal bureaucracy spun totally out of control." --Peter Kokalis, editor of Fighting Firearms.
Great Bear Adventures : True Tales from the Wild
By Andy Russell. I know this one isn't about varmint hunting but the stories here will make your hair stand on end!!
Alaska Bear Tales
By Larry Kanuit, Larry Kaniut
More Alaska Bear Tales
By Larry Kaniut
The Ultimate in Rifle Accuracy
By Glenn Newick. You gotta have this one too!
The Handloader's Manual of Cartridge Conversion
By John J. Donnelly
Reloading for Shotgunners
By Kurt D. Fackler, M.L. McPherson
Handloader's Digest (17th Ed)
By Bob Bell (Editor)
The Small-Game and Varmint Hunter's Bible. By H. Lea Lawrence
This one may not be in stock but it's worth a try.
Afield With J Frank Dobie
Tales of Critters, Campfires, and the Hunting Trail by J. Frank Dobie
Varmint Hunter's Digest
The How-To Book for Varminters by Jim Dougherty. This book is a classic and pretty much unavailable. You may be able to find it at the gun shows.
Coyote Hunting
by P. Simonski
One Shot-One Kill
By Charles W. Sasser, Craig Roberts. This is a sniper manual that will go a long ways towards making you a better shot. That's my motto by the way. One Shot - One Kill.
The Art of Hunting
By Norman Strung
Bowhunter's Encyclopedia
By Dwight Schuh
Bowhunters Digest
By Chuck Adams
In Defense of Hunting
By James A. Swan
Gun Digest 1998 (Serial)
By Ken Warner (Editor)
Blue Book of Gun Values (18th Ed)
By S. P. Fjestad
The Story of the Gun
By Ian V. Hogg
Jim Dougherty's Guide to Bowhunting Deer
By Jim Dougherty, Jack Lewis
The Best of Jack O'Conner
By Jack O'Conner
The Game Bird Hunter's Bible (Outdoor Bible Series)
By Robert Elman
Cartridges of the World
A Complete and Illustrated Reference Source for over 1500 of the World's Sporting Cartridges (8th Edition) by Frank C. Barnes, M.L. McPherson
The Complete Black Powder Handbook (3rd Edition)
By Sam Fadala
The Art of the Rifle
by Jeff Cooper
ABC's of Reloading
By C. Rodney James, Handloader's Digest (Editor)
Metallic Cartridge Reloading
By M. L. McPherson, Edward Matunas
Complete Reloading Guide.
By John E. Traister, Robert J. Traister
Reloading for Shotgunners
By Edward A. Matunas
Gun Digest Book of Handgun Reloading
By Wiley Clapp, Dean A. Grennell
The Best of Field & Stream
100 Years of Great Writing from America's Premier Sporting Magazine by Margaret G. Nichols (Editor), J.I. Merritt (Editor)
Whitetails in Action
By Mike Biggs
Hunting and Fishing Military Lands
By J. L. Spinks
Death in the Long Grass
By Peter Hathaway Capstick
The Man-Eaters of Tsavo (Peter Capstick Library Series)
By John Henry Patterson
The Archer's and Bowhunter's Bible
By H. Lea Lawrence
Archer's Digest
By Roger Combs
Bowhunting Equipment & Skills
By Dwight R. Schuh (Editor), G. Fred Asbell, Dave Holt, M.R. James
Duck Hunting
By Jeff Simpson, Dick Sternberg
The Game Bird Hunter's Bible
By Robert Elman
The California Varmint Callers is a nonprofit organization.
All information on these WEB pages Copyright © 1995